Post by Yatagarasu on Dec 20, 2018 17:39:00 GMT -5
Yatagarasu
Rank: D
Age:
16
Gender:
Female
Appearance:
Under Uniform:
With Uniform: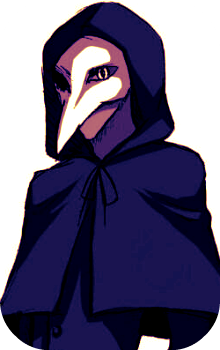 Yatagarasu is a lean and lithe young woman who is 5'7" and weighs 140 lbs. Due to having her womb removed at a young age, she has no breasts or hips to speak of, and she's fine with that- children, in her eyes, tend to be liabilities, and she would rather not be burdened with them. Her hair is a dull brown, cut short to her scalp so as to prevent it from being grabbed on missions, and she has nondescript brown eyes. Her skin does have a slight tan to it, but it would likely be a lot darker if not for her uniform. Her uniform for missions consists of a white crow mask with no defining features, blue-black clothes, and tight fitting leather boots. Her voice is slightly high pitched, but it is difficult to tell whether or not she is a boy or girl from looking at the way she moves and talks. She tends to move elegantly and with purpose, like a predator that knows when she walks around prey. She doesn't tend to blink very often, which unsettles the people around her- not that she cares.
Village:
Sakyugakure
Clan:
Nara
Bloodline:
N/A
Clan/Bloodline Traits:
-Animalistic Bond
-Extensive Medical Research
-Shadow Manipulation
Specialty:
Ninjutsu
Element:
Earth
Personality:
Conditioned to be a pinnacle assassin since the tender age of five, Yatagarasu doesn't have much going her way in terms of huge personality quirks, likes, or dislikes. While her main concern is serving the Sunakage directly, when she's not training, she is a skilled painter. Her favorite past time is birdwatching. Largely disconnected from her peers as a whole, she tends to be emotionally clueless, blunt, and dry. Although she can be comically serious at times, she doesn't tend to have a sense of humor. The young assassin doesn't go out of her way to interact with other people as a whole, but can often be found scouting the rooftops of Sakyugakure at night, either to buy inks and paints, or to restock on ninja supplies. She tends to have no moral qualms whatsoever when it comes to the ninja lifestyle- if her kage ordered her to set an orphanage on fire, she would do so with no questions asked and without hesitation. Almost as a substitute for human interaction, there are a few crows and ravens that live scattered about the hidden village that she often feeds. They can recognize her at this point, and occasionally bring her 'gifts'- buttons, single ryo coins, and sometimes strips of foil.
History:
0-8:
Yatagarasu was born to a prostitute mother and an unknown father in the slums of Sakyugakure, and was quickly abandoned to the orphanage after her birth. From a young age, she displayed no particular prodigal talents, but had slightly larger chakra reserves than average, as well as high amounts of Yin chakra. She followed all the correct milestones, but learned to walk and crawl a few months early. Although the matrons of the orphanage liked her, she was a very average child- although she did have one close friend, a boy named Chisuke. The two were not quite inseparable, but frequently slept, played, and ate together. One day, however, she snuck out of the orphanage, and witnessed a sight that no four year old child should ever have to see- a violent murder. After brutally gutting a woman in an alley, a smaller man turned quickly towards her frame with a frantic look in his eyes. Before he could approach, a darkly clothed figure seemed to appear in a cloud of smoke, his only notable feature a blank white mask that seemed to resemble a crow's beak. He quickly slit the killer's throat with a practiced swipe, before turning towards her. The two looked each other in the eyes for what seemed like forever, before he vanished again without a trace. It was only later that she realized that she hadn't been shaking or afraid at all at the sight of blood.
Two weeks later, past her fifth birthday, she met the man again. She woke up to see him sitting on a chair in her room, looking comfortable, like he was supposed to be there. Rather than shout or scream, she decided to tilt her head and observe him. After a minute, she opened her mouth to make an introduction. He offered to train her as a ninja after she did so, but warned of a mind-breakingly vigorous training regimen, as well as almost total isolation. He asked her to think about it for three days, and when he turned back up three days later, she accepted his offer, and she was taken away under the wing of a man who she only knew to be Yatagarasu, the fourth in a line of elite assassins that passed their names down to their apprentices.
From then on, she was stripped of her name, her friends, and her very identity- from sun-up to sun-down, she was merely Yatagarasu's apprentice, until she could take on the name of Yatagarasu herself. Her womb was removed at age seven, and she performed her first kill around that time too- an enemy shinobi she had encountered on an out of village mission with Yatagarasu. From then on, she began to take on missions of increasingly higher rank- moving up to C ranks. Much like her master, she wore dark blue concealing clothes out on every mission, but unlike him she also adorned a small half mask that covered her face. Once she turned eight, however, she met the kage of the village for the first time- a man who she had been drilled undying loyalty to from the tender age of five, but someone who she had never actually met. Although she didn't have any strong opinions towards the man, she didn't have any qualms about laying either her life or someone else's on the line to protect him. It was her duty, after all.
9-16:
She trained vigorously until age ten, at which point she was permitted to bear the name Karasu, and bear a white crow mask of her own- not the full title, and not the full ceremonial image. However, she started to walk the village and carry out small missions in broad daylight, albeit in the uniform, and was starting to become recognized by the village as the successor to the current Yatagarasu. She took on mostly B rank missions at this point, and her training progressed to include some stolen scrolls. They had supposedly been recovered from a Nara clansman after a mission encounter went sour.
At age twelve, a new kage was elected for Sunagakure no Sato- a young woman named Sayaka Sarutobi. She had been introduced to the woman almost immediately by her master, but she still operated largely independently of most shinobi. By age thirteen, she started taking on A rank missions, and by age fourteen, she had started taking S rank missions. At age fifteen, she was considered worthy to bear the mask and title of Yatagarasu as the senior member began to succumb to long-sustaining injuries. Currently, Yatagarasu is struggling to bear the weight of her title, catch up to her namesake as quickly as possible, and prepare to serve the current Sunakage to her dying breath- whatever the cost.
Total Stats:
75
Speed: 25
Strength: 8
Durability: 7
Chakra: 10
Reserves: 25
Alts?:
Oliver Blackwell
Other Notes:
N/A