Post by row on Nov 23, 2018 8:37:37 GMT -5
Aiko Tsukami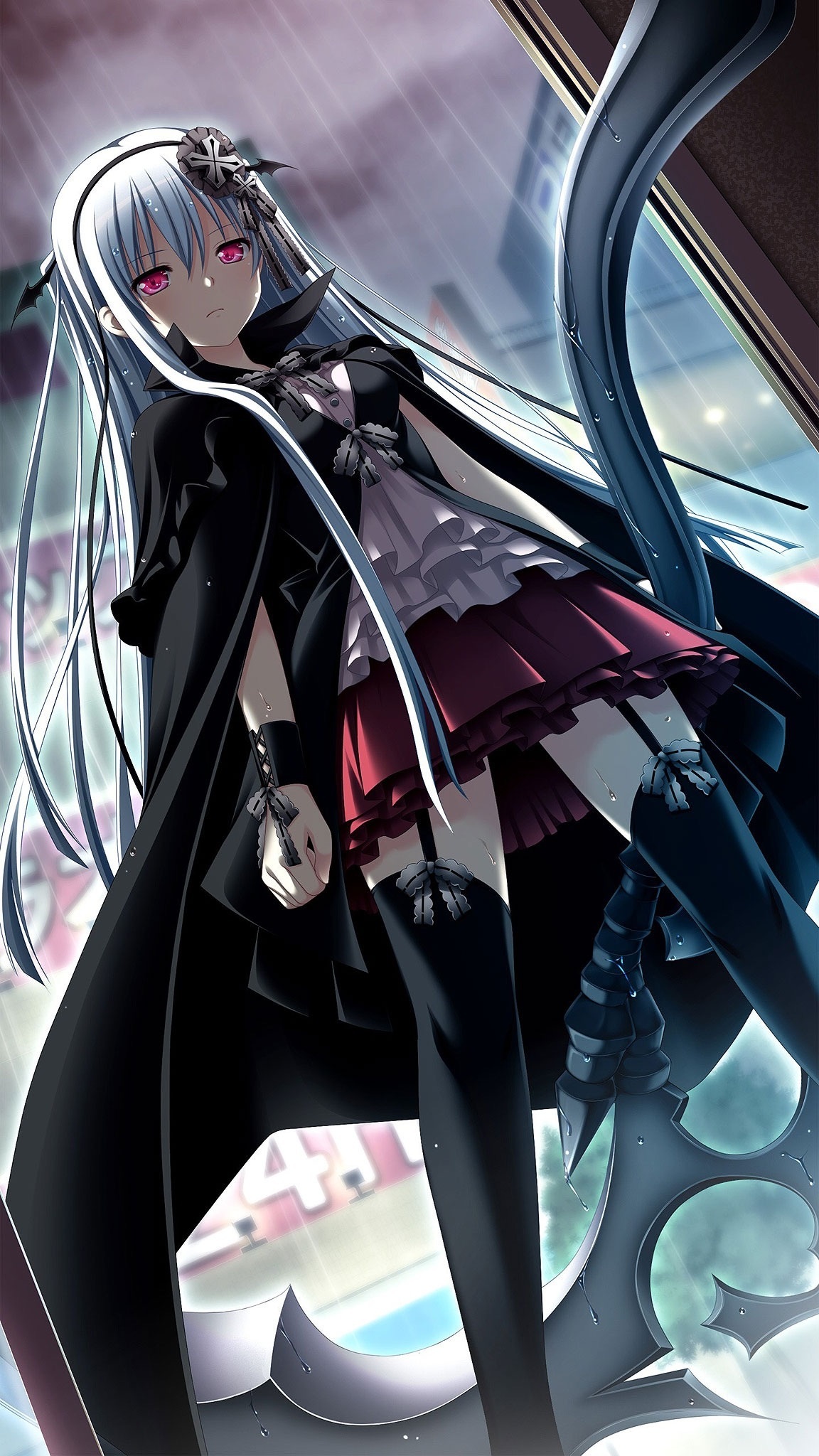 Rank: C-Rank
Age:
15
Gender:
Female
Appearance:
Aiko is a girl of small stature weighing 110 lbs. She is 150 cm tall with long white hair and fair skin. Her full violet-red eyes have a habit of diving into the girl's objects of interest. She is normally in awe, taking in the world around her. She has a lean yet athletic body due to her constant traveling and rigid training. She typically wears a red scarf and light clothing. A fitted shirt underneath a kimono, which falls to her knees, and compression shorts are her go too in most modest temperature environments. She dons longer pants, jackets, and bandages when in colder biomes and a sleeveless Kimoto when in hotter climates. Her general style does not change often because she is always on the move and tries to fit everything in her black bag.
Aiko's preferred weapon is a short katana, which she imagines holding on her left side. She does not know what kind of sheath she would use. All she knows is that it would be the second most expensive thing on her person. She wears a shuriken as a hair accessory. In the future, she plans to use a real one but for now, it is just a wooden replica. She has a pouch on her right side that holds pencils and a black eraser. She also has a notebook that looks like a bag.
Village:
unaffiliated

Clan:
Tsukami (WIP)

Bloodline:
WIP

Clan/Bloodline Traits:
WIP
Specialty:
Ninjutsu
Element:
Wind
Personality:

Curiosity is Aiko's most profound trait. It is what drives her souls and fuel the events that created her today. The girl itches to see the world and dreams of uncovering hidden secrets of the past. Due to this, she is always being noisy and listening in to the conversations of those around her. She is quick to ask questions and will even use force, if it results in a new adventure. Despite this aggressiveness, she is somewhat soft spoken. She prefers to listen be it stories from a child or legends from world leaders over telling her own tale. She rarely interrupts people unless she detects hints of hidden information. After all, the smallest detail could be the difference between finding a treasured oasis or death in the middle of a desert.
But was it worth it? Whenever Aiko is in the steam country, she grows quieter as memories of what she gave up surface. She becomes anxious and finds it hard to smile. Her voice becomes almost nonexistent as the guilt and pain suffocates her. Being around families for too long also triggers this state. Outside of that case, Aiko is a very animated girl who is hard to depress. She laughs and smiles when she is exploring or learning. She playfully complains and whines when things do not go her way. She feels at her best when she is in her sketchbook peacefully secluded from the busy world around her.
Aiko is a self describe free spirit who is a slave to her desires. She does what she wants. She takes what she wants. She only follows rules, which serve her interest. Anything that limits this self-proclaimed freedom is met with an immediate rebuttal, if not outright challenged. After all, the unknown must be known, and drawn, if not outright colored! This is what gets Aiko into trouble as she tries to sneak into forbidden grounds or runs into dangerous areas. While she tries to fight temptation, normally through focusing on something else more easily attainable, she cannot always fight the urges.
History:


Aiko was born into the nomadic Tsukami clan. As her family's branch wandered the lands, Aiko would draw the different things she saw. She would stay up all night to draw the stars shaping the edges of the earth. She would sneak away from her chores to follow the tiny animals for that perfect picture. This continued until she fell into a rune while exploring a forbidden area. Inside of the rune, Aiko had the adventure of a lifetime. Alien like symbols covered the walls as green moss fought to blanket statues and carvings. It was an endless source of material to draw. After her parents found her, they decided to find a safe place to settle down.
Their immediate family would move to the Iron City in the Steam country as the last adventure for the girl. They hoped a safer life would help protect their daughter but in only build resentment. Aiko would sneak away from home to explore different parts of the city, adding to her drawings the different things she saw. Amazement filled her eyes with every trip until she realized something. While the buildings, scenes, and people might change, the feeling she would capture on her pages would not. They all felt like the Iron City. The girl was growing bored, longing for the days where she could see something different. This stagnant city life was not for her. So she had to find a way to change it.
Aiko started making a habit of leaving the city walls. Given the difficulty of the task, she would make her trips longer and longer with each adventure. Nights turned to days. Days turned to weeks. It was all worth it to not be in the Iron City. The pattern would continue. She would eventually grow bored and venture somewhere else. Eventually, she found herself in a forest where she explored for days. Though she never got her fill of adventuring, she knew she had to return home. However, she ran into a problem.
For the first time in her career, she was lost. Aiko wandered aimlessly around with little food and water until she came across a home in the woods. Living there was an old woman, a relic from the chaotic times. The woman's home was a treasure in itself, like walking into another time period. Aiko stopped looking for a way out and started searching for answers. Who was she? Why was she here? What was her world like?
The woman would eventually be convinced to share her stories. This would lead to hours of history, adventure, war, lost. It was like a dream. The girl did not want to go. It was a fantasy and she would do anything to be there just a minute, no... a second longer. As the days grew late, Aiko begged to be allowed to stay. She promised to do anything for another scene to fantasize about. She vowed to herself that she would live it and capture it all. With this drive, the woman decided to help the girl.
The days grew longer as less of it was filled with stories. Grueling runs through the woods would be followed by nights of meditating and growing Aiko's chakra control. Hours would be spent attacking dummies, throwing shuriken, hiding her presence, and even fighting wild animals. The girl was pushed to exhaustion with only the promise of a new world pushing her forward. After years of this life, the girl's training was complete. The old woman still had more to tell but the girl could not be satisfied anymore with stories. The woman promised her a life of discovery. It was time to see that promise through. She could once again experience that bliss she was forced to leave behind as a child. And with all great adventures, they start at home.
Total Stats:
150 (750)
Speed: 25 (200)
Strength: 1
Durability: 24 (149)
Chakra: 25 (200)
Reserves: 75 (200)
Alts?:
none
Other Notes:
Working on the Tsukami Clan.
It was a cold afternoon inside the giant walls. The sun was starting to set and the citizens of Iron were scuffling into carriages. Aiko watched as splashes of unfamiliar faces make up a familiar site. Years ago, her fingers would itch to capture the last glimpse of district activity before the watchful eye of the moon soared overhead. Now her heart dragged struggling to slow the wheels of motion. Unlike the people around her, there was no rush. The smell of metal would always be here. The stone roads would always click below her feet. The warm glow of lanterns would always guide her home. Even after being gone for years, she could remember each detail since she first drew them. It would all be here.
The activity in the streets was but a trickle as Aiko cut into the residential district. There were more homes, taller despite the girl growing up herself. The coats of paint glisten even under the shadow of the wall. She could imagine the colors the sunlight would create, white, blue, red, brown. She turned to each one knowing she would have to update her drawings. She did not look forward to the task. No matter how many homes they added, this was still the Iron City. It was still the residence district. It was still her same home. It would always be here, void of any discovery.
Aiko moved deeper into the district with a growing heartbeat. It was quiet even if the stars were waking up. The older homes, the ones in her drawings, were faded. They lacked light, warmth, or even life. A starving tree was invading Auntie Tomomi's window. Weeds chased out Uncle Okada's grass. Auntie and Uncle Izumo did not have a front door despite having feline visitors. This too was the Iron City. It was a scene she seen in countless older districts. It was not new despite requiring an update to her sketches. It was not new, but Aiko could not shake a feeling of change. Home did not change. Home could not change. It would always be there.
Aiko's footsteps echoed throughout the neighborhood. Her heart raced. Her face weighed her head down. The houses were growing duller. Wood rotted away. The earth was grey. All of this needed to be updated, but she refused. Not a single lantern glowed for miles. Only the Moon and stars accompanied the girl. It was dark despite the truth clearly visible around her. There were no carriages or horses. Stones escaped the neglected road. This was not the Iron City, not the girl's Iron City. This was not her home. Finally, she stopped in front of a house. A tear rolled down her face. This was the City of Iron. This was her home.
The rusty iron fence that Aiko would squeeze through was her home. The grassless yard that softened the ground as she napped in the sun was her home. The creaking door that could fall off with the smallest exertion of pressure was her home. The dull walls that once hung her pictures and now were filled with fist size holes was her home. The dirty floor with a flock of dust bunnies was her home. The broken window that she would jump out of into the front yard was her home. The empty lifeless house was her home. The stone plaque with her name carved deep into the stone dating to the day she left. This was her home. The only thing that waited for her was... her home.